WP4 LED - Call For Tender -

CLOSED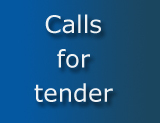 WP4 LED is enquiring whether test laboratories are interested to submit a call for tender for the testing of mains voltage and low voltage directional and non-directional led lamp types predominantly used in the domestic sector. The purpose of the testing is to support market surveillance for the EU regulations 874/2012/EU, the 1194/2012/EU and the 244/2009/EU. The testing must be based on the requirements defined in these specific regulations and the relevant test standards defined in Commission Communication 2014/C 22/02.
However, more detailed information is provided within the formal Call for tender and the PROSAFE General Conditions for Tender. Please fill in the pricing table. Quotations should be received in hardcopy at the PROSAFE Office, Avenue des Arts/Kunstlaan 41, B-1040 Brussels, Belgium and via email to the Activity Facilitator. The tender should be sent not later than Monday, 14 December 2015, 12:00 (Time Zone: GMT + 1 hour). Quotations received after the deadline will be rejected.