Work Package 2: Reinforcing Best Practices
Scope of action
The first objective of the Work Package 2 (WP2) "Reinforcing Best Practices" is, as its name clearly states it, to reinforce the Best Practices developed and implemented throughout the EEPLIANT 2014 project (EEPLIANT1). As per consequence, all the Member States involved in this Joint Action are encouraged to use common methods, protocols and checklists.
The EEPLIANT 2016 project (EEPLIANT2) is also an opportunity to strengthen further this "Best Practice" approach through the development and the joint adoption of product specific "toolboxes" containing guidance, common methods, protocols and checklists.
Best practices guidelines for market surveillance authorities were first developed by PROSAFE in 2008. EEPLIANT1 project built upon this effort by creating a Best Practice Guidelines based on the Energy Labeling and Ecodesign legislations. EEPLIANT2 has further enriched these guidelines.
The latest revised version of the Good Practices Guidelines can be accessed here.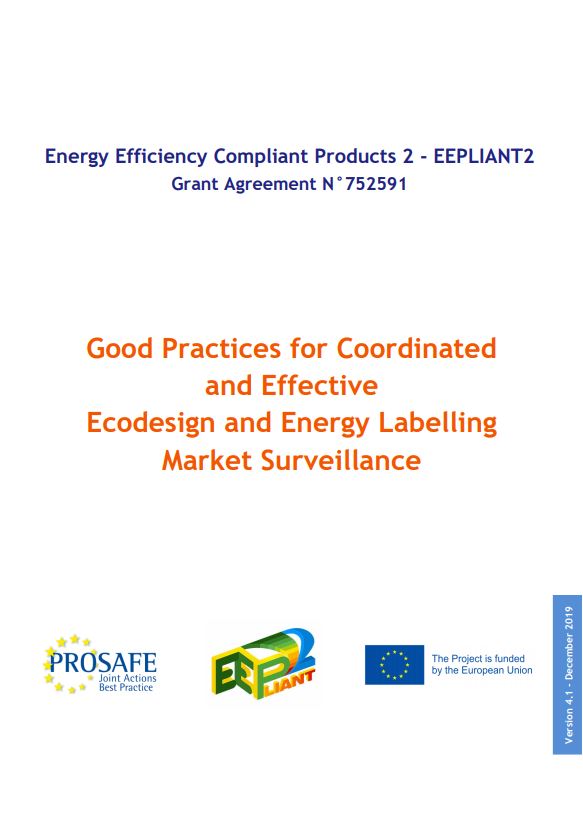 Guidelines: Content
The legal base - in particular the new energy labelling framework regulation (EU) 2017/1369 and the coming market surveillance regulation (EU) 2019/1020:
How to set up national market surveillance and inspection programmes;
How to select products for inspection, including risk assessment;
How to identify EEA-wide product model numbers;
How to conduct documents inspections;
How to conduct compliance verification laboratory tests;
Lessons learned;
How to enforce the provisions of the regulations.
Participants
All the Market Surveillances Authorities (MSAs) involved in EEPLIANT2 are part of this Work Package. They are from the following Member States: Austria, Bulgaria, Denmark, Finland, France, Germany, Ireland, Latvia, Lithuania, Luxembourg, Malta, The Netherlands, Portugal, Slovenia, Sweden.
Learn more...