WP5 Printers - Call For Tender -

revised version and extended deadline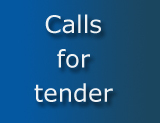 WP5 Printers is enquiring whether test laboratories are interested to submit a call for tender for the testing of imaging equipment that is within the scope of the Voluntary Agreement. However, more detailed information is provided within the formal Call for tender and the PROSAFE General Conditions for Tender. Please fill in the pricing tables. Quotations should be received in hardcopy at the PROSAFE Office, Avenue des Arts/Kunstlaan 41, B-1040 Brussels, Belgium and via email to the Activity Facilitator. The tender should be sent not later than Monday, 16 May 2016 (Time Zone: GMT + 1 hour). Quotations received after the deadline will be rejected.